Happy Workout Wednesday,

Before we get to our normal Workout Wednesday programming, I have to share this amazing video that I came across on Annette's blog, Enjoy Your Healthy Life, yesterday. It is a beautiful music video about the largest live nativity scene ever put together. It set a new Guinness World Record. The music is phenomenal and it is sure to remind you what this season is really all about!




And now, back to our regularly scheduled programming for Workout Wednesday. Yesterday morning, little bit woke up extra early at 4:30 AM. After I fed her, I was pretty awake (and would have only been able to go back to sleep for 40 minutes anyways), so I decided to get in a quick circuit workout instead. I haven't used my TRX in month's, which is a total crime, so I decided to bust it out and get to work! I only had 25 minutes before I had to get ready for work, so I had to make it count!


I think I completed 6.5 rounds in 25 minutes. My arms were shaking and my hamstrings are already nice and sore today! After my workout, I quickly showered, packed my bag for the day, and headed off to the studio to teach my 7 AM Pilates Mat class and 9 AM Barre class. We had a great group in both classes. I am so impressed with how many people are sticking with their workouts even through the craziness of the holiday season. Your body will definitely thank you come January! :)
I hope you all have a great rest of your Workout Wednesday! Don't forget to check out the Workout Wednesday linkup for other great sweat inspired posts.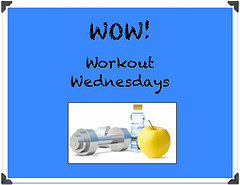 How are you going to celebrate Workout Wednesday this week?
Are you an AM or PM exerciser?
In health,
6 Comments »