Howdy,

Happy Hump Day everyone! I hope you guys are having a great day so far. I have a yummy smoothie recipe lined up for this weeks installment of What I Ate Wednesday.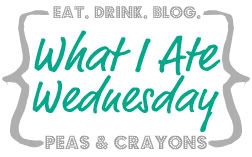 After reading
yesterday's post
, you know I have not been eating watermelon. :( I was also pretty over PB&J, so I mixed things up a bit for lunch this week with an open faced turkey, colby jack, and avocado sandwich on gluten free bread.
I'm not usually a huge sandwich person, but I am totally going through a phase right now. This sandwich absolutely hit it out of the ballpark in my book. It's even better if you toast your bread first and add a little spicy mustard!
Since my tummy still isn't loving real food in the morning, I went with a smoothie for breakfast. I decided to pump up the nutrition factor by throwing in a
Mamma Chia Squeeze Vitality
packet. Total success. Trusty smoothie ingredients + a
Mamma Chia
packet = a power packed smoothie!
It's time for me to tackle a little bit more work before heading back up to the studio for barre. I hope you all have a wonderful rest of your day!!
What is your favorite smoothie ingredient?
In health,
1 Comment »