Happy Wednesday!
How is your week going so far? Mine has been pretty crazy. I taught 5 classes yesterday, so by the time I got home my brain was no longer connected to the rest of my body! :) In other words, I couldn't speak in coherent sentences because I was so tired of talking. Luckily, my husband still loves me!

It's What I Ate Wednesday, and I have a delicious recipe to share with you!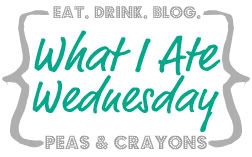 I've been really concentrating on upping my greens lately, so I started off Monday and Tuesday with a Glowing Green Smoothie (recipe to come once I have perfected my favorite version)!
I have also been trying to cut back on the coffee, so I traded my second cup for a glass of delicious chia tea! Chia tea has significantly less caffeine than coffee, but it still does the trick for me in the morning. I think I just love drinking something warm to start off my day.
Now, on to the most delicious item of the week. Allow me to introduce you to Mr. Quinoa, Corn, Pean and Avo Salad! Man is it delicious! I found the recipe in
Kimberly Snyder's Beauty Detox Solution book
, and tweaked it just a bit to suite my taste buds.
Quinoa, Corn, Pea, & Avo Salad
Keywords:
boil entree salad side gluten-free vegetarian quinoa
Salad Ingredients
2 cups water
1 cups black quinoa (you can use whichever variety you prefer)
1 can of organic white corn (rinsed and drained)
1 large avocado sliced
3 Tbs. finely chopped red onion
1 cup frozen green peas
Dressing Ingredients
Juice of one small lemon
1 Tbs. olive oil
1 Tbs. Gluten-Free soy sauce
1 Tbs. brown rice vinegar
1/2 Tbs. minced garlic
Instructions
In a medium saucepan, bring the water to a boil. Reduce to low heat, and add the quinoa. Simmer until the water is absorbed (approximately 10-15 minutes). Set quinoa aside to cool.
Chop red onion and avocado. Mix with corn and peas in a large bowl.
Whisk all dressing ingredients together in a small mixing bowl.
Combine vegetables, quinoa, and dressing ingredients together and place in fridge.
I promise you'll love it. I've been putting it on top of my lunch salads all week.
Let me know if you try it out! I hope you all have a wonderful Wednesday!
What is your favorite thing to put on your salad?
In health,
1 Comment »