Hello there friends,
How are you today? Fabulous I hope! E and I are going out of town next week, so this week is crazy getting everything ready. Taking off work makes me a bit anxious, but I am trying my best to just get everything set as best I can, and then let it go! We will see how it goes. Haha :)

On to more exciting things! It's What I Ate Wednesday Time and I have some yummy eats and new products to share with you!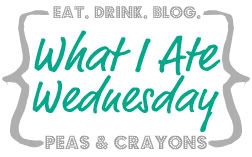 First up is a brand new to me protein powder.
BiPro
is a sugar free, fat free, carb free, 100% natural whey protein. Check out the nutrition facts!
This protein powder didn't really have much of a taste which meant it was perfect to mix into my morning green smoothie. I combined strawberries, bananas, spinach, ice,
BiPro
, and 1/2 cup water together in my cute pink blender. It was absolutely delicious and not the least bit chalky. I honestly couldn't even tell there was protein powder in the smoothie.
The perfect way to start the day! For lunch I packed in even more veggies with a salad monster topped with green peas, cooked quinoa, carrots, mushrooms, and nutritional yeast. Yummmm!!
The good eats just continued on yesterday with a yummy new gluten free chewy granola bar.
Perfectly Simple
granola bars are gluten free and have 10g of protein. I tried the cranberry almond flavor, and absolutely loved it!! I have also tried the peanut butter crunch flavor, but the cranberry almond is definitely my favorite.
So we've seen chewy and fruity so where is the chocolate you ask! Here she is. Isn't she beautiful?
OK so she might not be a looker, but this PB2 2 minute microwave cake was delicious. I had to throw in a few chocolate chips for good measure of course. This cake is full of protein thanks to the PB2 and egg whites, low in calories and sugar (especially if you leave out the chocolate chips), and super quick to make. I am still perfecting the recipe, but I will be sure to share it with you as soon as it's perfect!
What have you been licking your lips over lately?
In health,
Add a comment »