Happy Wednesday,

The winner will be announced Friday!
How are you this wonderful hump day? I am absolutely loving the warmer weather and longer days we are having here in Big D. Something about it being light at 6am all the way until 8:30pm just makes me all warm and fuzzy inside. It's like you are actually gaining hours in the day to be productive.
Yesterday, was our
2 year wedding anniversary
so E and I went out to dinner and to get frozen yogurt of course. We are taking a trip to Florida the second week of June, so we are going to have round two of celebrations then! :) It was a wonderful night, and I am so lucky to be married to such an amazing man!
To start your Wednesday off right, take a moment of bask in this cuteness. It is literally one of the sweetest things I have ever seen!
Here are a few of my eats for What I Ate Wednesday. There not crazy, but let me tell you chocolate, banana and spinach are a match made in green smoothie Heaven!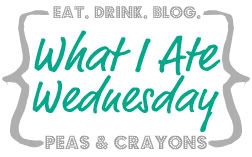 Chocolate Banana Green Smoothie
Keywords:
blender breakfast salad gluten-free
1 handful of spinach
1 scoop of vanilla protein powder of choice
1 frozen banana
6 ice cubes
2/3 cup almond milk or milk of choice
Instructions
Blend and Enjoy!
I am loving putting flax seeds on my salad lately. They add a great texture and slightly nutty flavor! When mixed with avocado and feta cheese, it makes the perfect lunch! :)
I am always on a mission to find ways to fit in more vegetables, but to be honest with you, sometimes I am stumped when it comes to cooking certain veggies. So when I came across this helpful little cheat sheet from
KidSpot.com
, I was beyond thrilled.
I hope it helps you as much as it has helped me! :) I am headed off to work, but I hope you all have an absolutely wonderful Wednesday.
In health,
Add a comment »