Howdy Friends,

I hope you are having a great Workout Wednesday so far! Monday's workouts included a quick 3 mile run in the morning followed by a Barre class at 11 AM. On Tuesday, I taught a barre class and then actually got to take a Pilates class since my wonderful trainee, Katie, taught the whole class by herself for the first time! She did an amazing job! It is so fun to get to be the student when you are used to being an instructor.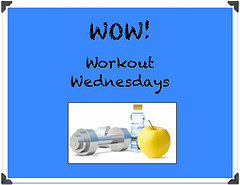 For Workout Wednesday this week, I thought it would be fun to do a workout roundup of some of my favorite workouts I have posted in the past and some of my favorite bloggers that also participate in Workout Wednesday. The following four workouts utilize two of my favorite pieces of equipment - the medicine ball and TRX! Each of these pieces of equipment can be used for a million different exercises. Literally, if you gave me just these two pieces of equipment and a full day to use them, I couldn't come up with every exercise you can do with them. They are both great to use when you are pressed for time because many of the exercises you do with them work multiple body parts at once. They also don't take up a lot of space so they are perfect for your home gym.
I wrote this first workout when I was 8 months pregnant and really missing kick butt workouts. Between burpees, box jumps, and pull-ups, your muscles are sure to be screaming in no time.
This next workout utilizes the stability ball and medicine ball to target your entire body in one workout. Pick a medium to heavy medicine ball for the best workout.
All you need for the following workout is a TRX and your own body weight. The best thing about the TRX is that your core is challenged in just about every exercise you do. Since you are using your own body weight as resistance, it is perfect for beginners and the most advanced exercises alike.
Last but not least, we combine both the TRX and medicine ball for one sweat pouring good time! Even though most of us are bundled up for winter, I like to picture the beach whenever I need a little extra motivation to workout. Beach bodies are made in the winter right?
Let me know if you give any of them a try! Now, to give some shout outs to my favorite Workout Wednesday Bloggers. If you are looking for some new workout motivation, go check these lovely ladies out!
I hope you all have a fabulous rest of your Workout Wednesday!
How are you going to get your sweat on today?
I plan to teach a Barre class at 6 AM and a Pilates class at 11 AM. I also hope to fit in 10,000 stpes and a quick circuit workout somewhere!
In health,
8 Comments »